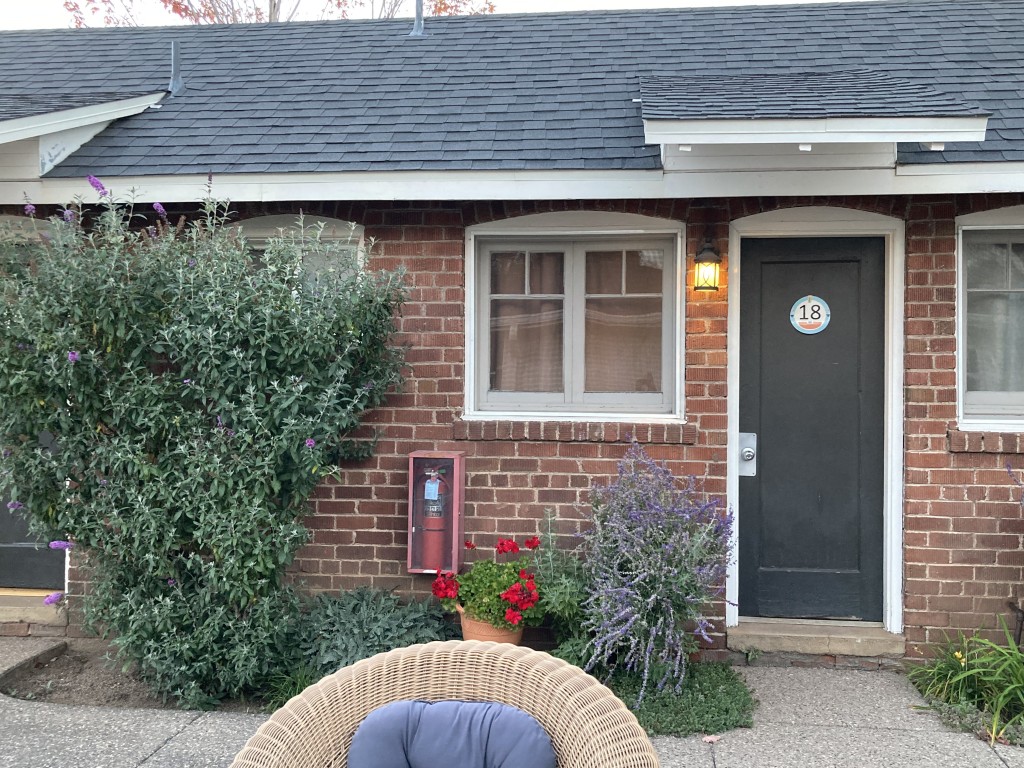 Rory and I recently celebrated 10 years together. When we first got together, I couldn't have imagined how great of a fit we'd be together. But our relationship just gets better as time goes on. I knew this kind of relationship was possible for me, but this is the first time I've experienced it.
To celebrate this milestone, we went up to Flagstaff for a couple of days. We're (always) on a tight budget, so cost was high on my mind when finding somewhere to stay. My two criteria for lodging are: Is it safe? Is it clean? If somewhere passes those two tests, I'll consider staying there.
I did some looking at Airbnbs and hotels and motels, and everything was just too much money. So, I looked for hostels, and came across the Motel DuBeau, which is a Travelers Inn. (I'd classify it as a cross between a motel and a hostel, leaning heavily toward the motel side.)
The Motel DuBeau is a cute, historical motel in downtown Flagstaff. Two nights there in an economy room totaled about $215 including tax and such, which I was able to pay with credit card points (!). Note that they have a number of room options, many of them considerably larger than the room we stayed in. They cost more, of course, but are generally also very affordable when compared with traditional hotels.
The motel has a great history, which you can read about on their website. It's one of the most interesting places I've ever stayed, with a hefty pros list and a shorter but still important cons list. Because of some of the details of this place, I wouldn't necessarily stay there in the warmest part of the summer or the coldest part of the winter. But spring and fall, and most of the summer (since Flagstaff has such nice summer weather), it's a great option.
Would I stay there again? Definitely, yes.
This slideshow requires JavaScript.
Here are my pros and cons, in no particular order.
Pros:
Very good water pressure
Cute style
Affordable price
Great downtown location
Clean and safe
Free breakfast
Access to kitchen and laundry
Lovely outdoor spaces
Awning over door
Plants and a mural fill the courtyard
Off-street parking, right near your room
Radiator for warmth
Obvious attempts at making the room functional with hooks, small table, shelf, etc.
Very comfortable bed
Small fridge in the room
Interesting history
Free ear plugs
Vintage hardwood floors
Good quality fixtures and tile in the bathroom
Ceiling fan
Lots of room under the bed
Free wi-fi
They don't try to make up your room if you stay for more than one night (a plus for us, might be a minus for you)
Cons:
Tiny room with no closet (we estimate the room and bathroom together to be about 90 square feet)
Street noise from nearby train tracks plus cars and walkers by, especially problematic in the evening/early night
Provided soap is low quality and strips oil from skin (tip: bring your own soap)
Breakfasts are mostly high sugar items
Windows have single panes of glass
Door needs weather stripping
Tiny shower
No air conditioning, as far as we could tell
To sum up, the central location, good price, and visual attractiveness of Motel DuBeau make this a winner in my book. Visit their website to see more photos and learn more about the place. But we don't mind not having luxury when we travel. If you have particular needs which make any of the cons a deal breaker (other than the size—remember, they have many room options), you'll just have to enjoy the Motel DuBeau on one of the many free self-guided walking tours of Flagstaff.